Annex to the visitor regulations of the Lithuanian sea museum 
Mandatory!
1. wear masks or nose and mouth covering  personal protective equipment;
Recomendations!
1. practice hand hygiene, comply with the etiquette of coughing and sneezing;
2. maintain safe distance;
3. regard precautionary signs, instructions or other guidelines as well as verbal directions given by the staff of the Museum;
---
October
Friday, Saturday, Sunday
AQUARIUM AND MUSEUMS' EXHIBITION – 10.30–17.00
DOLPHINS AND SEA LIONS PERFORMANCES: V –  12.00 and 15.00, VI, VII – 12.00, 13.30, 15.00
---
Dear visitors,
Lithuanian Maritime Museum kindly invites You to participate in the survey. The results of the survey will help the Lithuanian Maritime Museum to understand the needs of users better and to improve their activities and infrastructure. The questionnaire is anonymous and confidential. Summarized responses will be used to improve the performance. Select the answers that are right for you.
You will find a questionnaire here
Thank you for your engagement and sincere responses!
---
NEW EXHINITION!
IN MUSEUM'S EXHIBITION HALL
---
NEW EXPOSITION!
On the 2 nd floor of the Aquarium
---
Get to know the History of Navigation in Lithuanian Sea museum anew!
Mobile aplication ABOUT LITHUANIA, SEA AND US
Please download the app on GooglePlay or ApleStore, Find the app "Juru muziejaus gidas"
1. After you choose one out of three guides: Captain Liudve, Boy Marius or ship rat Jojo
2. Complete tasks, listen, read, take photos
3. At the end of the tour you will have a book illustrated with your photos. 
Have fun!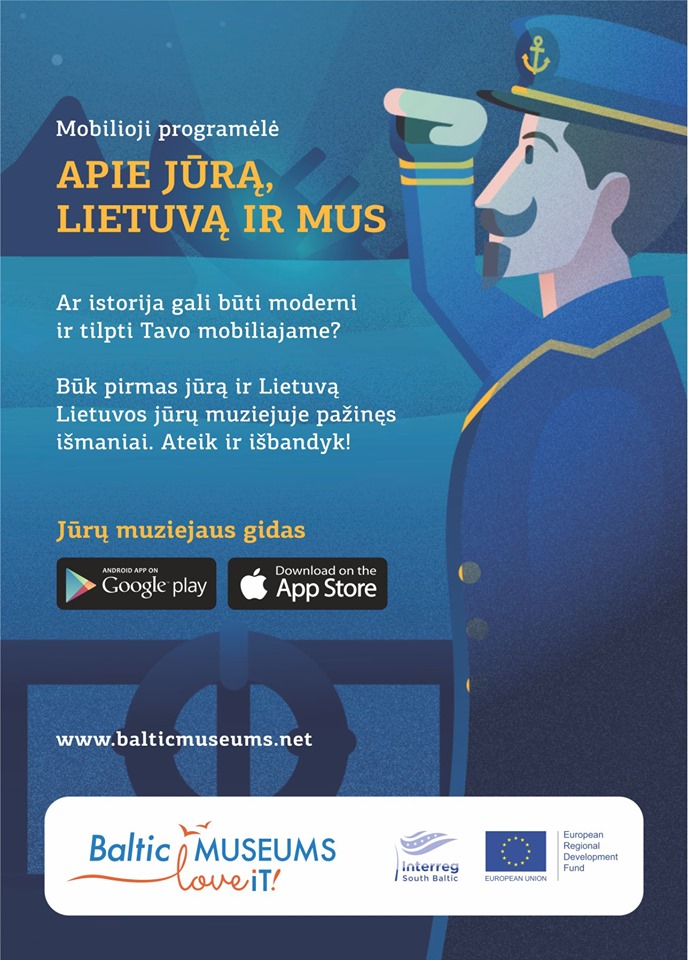 ---
Recomendations for visiting:
The museum shall not attend to the visitors with symptoms of acute upper respiratory tract infections (e.g. heating, coryza, or common cold, cough, heavy breathing etc.);
perform hand hygiene, comply with the etiquette of coughing and sneezing;
maintain safe distance;
regard precautionary signs, instructions or other guidelines as well as verbal directions given by staff of the museum related to the visiting of the museum territory;
purchase tickets on-line at www.ljm.lt;
 avoid physical contact when presenting a ticket for scanning;
Print
Information updated
2020-10-05 09:19